The Railcars That Keep America Moving
The Railcars That Keep America Moving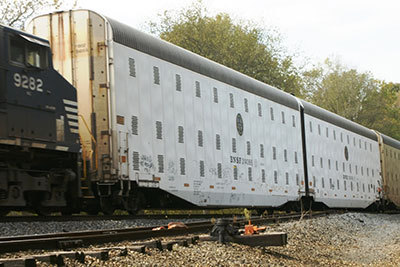 Industry:
Railcar Manufacturing
Product:
Custom continuous hinges and butt hinges in steel and stainless steel.
About the Project:
At Marlboro Hinge, we have extensive experience manufacturing hinges for the railcar manufacturing industry. Whether it's a hinge for a caboose door or a hatch cover, we provide the industrial strength hardware needed for the rough and tough railway industry.
Our biggest railcar manufacturing customer in Portland, Oregon still remains one of the most well-known in the country, with roots dating back to 1919 when they opened a wire wheel service company. This company quickly became a leader in steel fabrication and played a key role in manufacturing ship components for World War II.
Our client is the manufacturer of the largest auto rack on the rails (pictured above). This highly secure auto rack is fabricated with 11-gauge sheet steel and features tight-sealing composite doors with lockable bars. A railcar this heavy duty and secure requires the strongest, most reliable hinges available.
Marlboro Hinge supplies this client with both stainless steel and zinc plated steel continuous hinges that have been customized to be completely tamper-proof by way of welding both ends of the hinges for maximum strength and stability.