Weld-On Hinges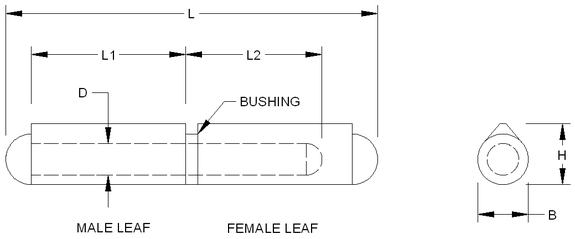 Displaying 73 of 75 Standard Inventory Hinges
| ProductNumber | Material | L | H | B | L1 | L2 | D | PDF |
| --- | --- | --- | --- | --- | --- | --- | --- | --- |
| FSP-040 | STL Body & Pin, Brass Bushing | 1.58 | 0.38 | 0.315 | 0.63 | 0.58 | 0.197 | PDF |
| FSP-050 | STL Body & Pin, Brass Bushing | 1.97 | 0.38 | 0.315 | 0.79 | 0.58 | 0.197 | PDF |
| FSP-060 | STL Body & Pin, Brass Bushing | 2.36 | 0.46 | 0.394 | 0.93 | 0.70 | 0.236 | PDF |
| FSP-070 | STL Body & Pin, Brass Bushing | 2.76 | 0.51 | 0.450 | 1.13 | 0.85 | 0.236 | PDF |
| FSP-080 | STL Body & Pin, Brass Bushing | 3.15 | 0.61 | 0.510 | 1.29 | 0.85 | 0.315 | PDF |
| FSP-100 | STL Body & Pin, Brass Bushing | 3.94 | 0.77 | 0.630 | 1.63 | 1.20 | 0.394 | PDF |
| FSP-120 | STL Body & Pin, Brass Bushing | 4.75 | 0.76 | 0.630 | 2.04 | 1.30 | 0.394 | PDF |
| FSP-135 | STL Body & Pin, Brass Bushing | 5.32 | 0.90 | 0.709 | 2.25 | 1.50 | 0.500 | PDF |
| FSP-150 | STL Body & Pin, Brass Bushing | 5.91 | 1.00 | 0.787 | 2.54 | 1.63 | 0.500 | PDF |
| FSP-180 | STL Body & Pin, Brass Bushing | 7.09 | 1.00 | 0.787 | 3.15 | 1.92 | 0.500 | PDF |
| FSP-200 | STL Body & Pin, Brass Bushing | 7.87 | 1.13 | 0.906 | 3.44 | 2.05 | 0.625 | PDF |
| FSP-260 | STL Body & Pin, Brass Bushing | 10.27 | 1.46 | 1.102 | 4.60 | 2.87 | 0.750 | PDF |
| FSP-080G / F | STL Body & Pin, Brass Bushing w / Grease Fitting | 3.15 | 0.61 | 0.510 | 1.29 | 0.85 | 0.315 | PDF |
| FSP-100G / F | STL Body & Pin, Brass Bushing w / Grease Fitting | 3.94 | 0.77 | 0.630 | 1.63 | 1.20 | 0.394 | PDF |
| FSP-120G / F | STL Body & Pin, Brass Bushing w / Grease Fitting | 4.75 | 0.76 | 0.630 | 2.04 | 1.30 | 0.394 | PDF |
| FSP-135G / F | STL Body & Pin, Brass Bushing w / Grease Fitting | 5.32 | 0.90 | 0.709 | 2.25 | 1.50 | 0.500 | PDF |
| FSP-150G / F | STL Body & Pin, Brass Bushing w / Grease Fitting | 5.91 | 1.00 | 0.787 | 2.54 | 1.63 | 0.500 | PDF |
| FSP-180G / F | STL Body & Pin, Brass Bushing w / Grease Fitting | 7.09 | 1.00 | 0.787 | 3.15 | 1.92 | 0.500 | PDF |
| FSP-200G / F | STL Body & Pin, Brass Bushing w / Grease Fitting | 7.87 | 1.13 | 0.906 | 3.44 | 2.05 | 0.625 | PDF |
| FSP-260G / F | STL Body & Pin, Brass Bushing w / Grease Fitting | 10.27 | 1.46 | 1.102 | 4.60 | 2.87 | 0.750 | PDF |
| FBP-040 | STL Body, Brass Pin & Bushing | 1.58 | 0.38 | 0.315 | 0.63 | 0.58 | 0.197 | PDF |
| FBP-050 | STL Body, Brass Pin & Bushing | 1.97 | 0.38 | 0.315 | 0.79 | 0.58 | 0.197 | PDF |
| FBP-060 | STL Body, Brass Pin & Bushing | 2.36 | 0.46 | 0.394 | 0.93 | 0.70 | 0.236 | PDF |
| FBP-070 | STL Body, Brass Pin & Bushing | 2.76 | 0.51 | 0.450 | 1.13 | 0.85 | 0.236 | PDF |
| FBP-080 | STL Body, Brass Pin & Bushing | 3.15 | 0.61 | 0.510 | 1.29 | 0.85 | 0.315 | PDF |
| FBP-100 | STL Body, Brass Pin & Bushing | 3.94 | 0.77 | 0.630 | 1.63 | 1.20 | 0.394 | PDF |
| FBP-120 | STL Body, Brass Pin & Bushing | 4.75 | 0.76 | 0.630 | 2.04 | 1.30 | 0.394 | PDF |
| FBP-135 | STL Body, Brass Pin & Bushing | 5.32 | 0.90 | 0.709 | 2.25 | 1.50 | 0.500 | PDF |
| FBP-150 | STL Body, Brass Pin & Bushing | 5.91 | 1.00 | 0.787 | 2.54 | 1.63 | 0.500 | PDF |
| FBP-180 | STL Body, Brass Pin & Bushing | 7.09 | 1.00 | 0.787 | 3.15 | 1.92 | 0.500 | PDF |
| FBP-200 | STL Body, Brass Pin & Bushing | 7.87 | 1.13 | 0.906 | 3.44 | 2.05 | 0.625 | PDF |
| FBP-260 | STL Body, Brass Pin & Bushing | 10.27 | 1.46 | 1.102 | 4.60 | 2.87 | 0.750 | PDF |
| FBP-080G / F | STL Body, Brass Pin & Bushing w / Grease Fitting | 3.15 | 0.61 | 0.510 | 1.29 | 0.85 | 0.315 | PDF |
| FBP-100G / F | STL Body, Brass Pin & Bushing w / Grease Fitting | 3.94 | 0.77 | 0.630 | 1.63 | 1.20 | 0.394 | PDF |
| FBP-120G / F | STL Body, Brass Pin & Bushing w / Grease Fitting | 4.75 | 0.76 | 0.630 | 2.04 | 1.30 | 0.394 | PDF |
| FBP-150G / F | STL Body, Brass Pin & Bushing w / Grease Fitting | 5.91 | 1.00 | 0.787 | 2.54 | 1.63 | 0.500 | PDF |
| FBP-180G / F | STL Body, Brass Pin & Bushing w / Grease Fitting | 7.09 | 1.00 | 0.787 | 3.15 | 1.92 | 0.500 | PDF |
| FBP-200G / F | STL Body, Brass Pin & Bushing w / Grease Fitting | 7.87 | 1.13 | 0.906 | 3.44 | 2.05 | 0.625 | PDF |
| FSS-040 | 304 SS Body, Pin & Bushing | 1.58 | 0.38 | 0.315 | 0.63 | 0.58 | 0.197 | PDF |
| FSS-050 | 304 SS Body, Pin & Bushing | 1.97 | 0.38 | 0.315 | 0.79 | 0.58 | 0.197 | PDF |
| FSS-060 | 304 SS Body, Pin & Bushing | 2.36 | 0.46 | 0.394 | 0.93 | 0.70 | 0.236 | PDF |
| FSS-070 | 304 SS Body, Pin & Bushing | 2.76 | 0.51 | 0.450 | 1.13 | 0.85 | 0.236 | PDF |
| FSS-080 | 304 SS Body, Pin & Bushing | 3.15 | 0.61 | 0.510 | 1.29 | 0.85 | 0.315 | PDF |
| FSS-100 | 304 SS Body, Pin & Bushing | 3.94 | 0.77 | 0.630 | 1.63 | 1.20 | 0.394 | PDF |
| FSS-120 | 304 SS Body, Pin & Bushing | 4.75 | 0.76 | 0.630 | 2.04 | 1.30 | 0.394 | PDF |
| FSS-135 | 304 SS Body, Pin & Bushing | 5.32 | 0.90 | 0.709 | 2.25 | 1.50 | 0.500 | PDF |
| FSS-150 | 304 SS Body, Pin & Bushing | 5.91 | 1.00 | 0.787 | 2.54 | 1.63 | 0.500 | PDF |
| FSS-200 | 304 SS Body, Pin & Bushing | 7.87 | 1.13 | 0.906 | 3.44 | 2.05 | 0.625 | PDF |
| FSS316-060 | 316 SS Body, Pin & Bushing | 2.36 | 0.46 | 0.394 | 0.93 | 0.70 | 0.236 | PDF |
| FSS316-080 | 316 SS Body, Pin & Bushing | 3.15 | 0.61 | 0.510 | 1.29 | 0.85 | 0.315 | PDF |
| FSS316-100 | 316 SS Body, Pin & Bushing | 3.94 | 0.77 | 0.630 | 1.63 | 1.20 | 0.394 | PDF |
| AFSSP-040 | AL Body, 304 SS Pin & Bushing | 1.58 | 0.38 | 0.315 | 0.63 | 0.58 | 0.197 | PDF |
| AFSSP-050 | AL Body, 304 SS Pin & Bushing | 1.97 | 0.38 | 0.315 | 0.79 | 0.58 | 0.197 | PDF |
| AFSSP-060 | AL Body, 304 SS Pin & Bushing | 2.36 | 0.46 | 0.394 | 0.93 | 0.70 | 0.236 | PDF |
| AFSSP-070 | AL Body, 304 SS Pin & Bushing | 2.76 | 0.51 | 0.450 | 1.13 | 0.85 | 0.236 | PDF |
| AFSSP-080 | AL Body, 304 SS Pin & Bushing | 3.15 | 0.61 | 0.510 | 1.29 | 0.85 | 0.315 | PDF |
| AFSSP-100 | AL Body, 304 SS Pin & Bushing | 3.94 | 0.77 | 0.630 | 1.63 | 1.20 | 0.394 | PDF |
| AFSSP-135 | AL Body, 304 SS Pin & Bushing | 5.32 | 0.90 | 0.709 | 2.25 | 1.50 | 0.500 | PDF |
| AFSSP-150 | AL Body, 304 SS Pin & Bushing | 5.91 | 1.00 | 0.787 | 2.54 | 1.63 | 0.500 | PDF |
| AFSSP-180 | AL Body, 304 SS Pin & Bushing | 7.09 | 1.00 | 0.787 | 3.15 | 1.92 | 0.500 | PDF |
| AFSSP-200 | AL Body, 304 SS Pin & Bushing | 7.87 | 1.13 | 0.906 | 3.44 | 2.05 | 0.625 | PDF |
| AFSSP-080BRG / F | AL Body, 304 SS Pin & Bushing w / Grease Fitting | 3.15 | 0.61 | 0.510 | 1.29 | 0.85 | 0.315 | PDF |
| AFSSP-100BRG / F | AL Body, 304 SS Pin & Bushing w / Grease Fitting | 3.94 | 0.77 | 0.630 | 1.63 | 1.20 | 0.394 | PDF |
| AFSSP-150BRG / F | AL Body, 304 SS Pin & Bushing w / Grease Fitting | 5.91 | 1.00 | 0.787 | 2.54 | 1.63 | 0.500 | PDF |
| RSP-050 | STL Body, Removable Stl Pin, Brass Bushing | 1.97 | 0.38 | 0.315 | 0.79 | 0.58 | 0.197 | PDF |
| RSP-080 | STL Body, Removable Stl Pin, Brass Bushing | 3.15 | 0.61 | 0.510 | 1.29 | 0.85 | 0.315 | PDF |
| RSP-100 | STL Body, Removable Stl Pin, Brass Bushing | 3.94 | 0.77 | 0.630 | 1.63 | 1.20 | 0.394 | PDF |
| RSP-100-3 | STL Body, Removable Stl Pin, Brass Bushing | 3.94 | 0.77 | 0.630 | 1.63 | 1.20 | 0.394 | PDF |
| RSP-135-3 | STL Body, Removable Stl Pin, Brass Bushing | 5.32 | 0.90 | 0.709 | 2.25 | 1.50 | 0.500 | PDF |
| RSP-150 | STL Body, Removable Stl Pin, Brass Bushing | 5.91 | 1.00 | 0.787 | 2.54 | 1.63 | 0.500 | PDF |
| RSP-150-3 | STL Body, Removable Stl Pin, Brass Bushing | 5.91 | 1.00 | 0.787 | 2.54 | 1.63 | 0.500 | PDF |
| RSP-200 | STL Body, Removable Stl Pin, Brass Bushing | 7.87 | 1.13 | 0.906 | 3.44 | 2.05 | 0.625 | PDF |
| RSP-200-3 | STL Body, Removable Stl Pin, Brass Bushing | 7.87 | 1.13 | 0.906 | 3.44 | 2.05 | 0.625 | PDF |
| ProductNumber | Material | L | H | B | L1 | L2 | D | PDF |
Weld-on hinges have specially designed leaves for welding installation. These heavy duty weld-on hinges have the same function as a slip joint hinge, but with a higher load rating and faster mounting. All weld-on hinges come with a bushing between the two leaves for easier mobility, with optional grease fitting for easier lubrication. A mill finish is standard on this type of hinge.
* Note: replacement parts are available if needed.
Weld-On Hinges are used in a variety of products & applications:


Get a quote for our Weld-On Hinges.